Cricket
Donator
License
Member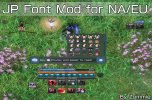 ​
This mod used Hora's Roboto Font mod as a template.
Special thanks to all these people for helping me figure it out. They all contributed tools and information to make this possible.
~From the BnS Buddy Discord: Ashllay, G Spot , Epic, Kayo, and KimCoder~
This mod uses the exact same font as the JP client's UI.
This is V1 of this mod as I am new to modding in UE4 but everything seems to be working correctly. JP uses two fonts but I am unsure where the other one is used.
The FTT_NPNewRodin-DB font is the one that most of the UI uses. Created as more of an accessibility mod for myself because I had trouble reading the awful font used in the Western client. I wanted to get this done asap since the UE3 JP Font mod helped me read the game better for years. It is my hope this will also help other people who have trouble reading the default font.
This mod also does not interfere with the emoji bar like in UE3.
I will make a tutorial on how to mod fonts soon if no one else does.
Please see this tutorial by Wiper008 on general UE4 modding and font modding:
HERE IS A FIX IF YOUR GAME DOESN'T LOAD WHILE HAVING THIS MOD AND A VOICEPACK MOD ACTIVE:
Just put "Mod_" in front of the name of your other mods or make a folders with "Mod_" at the start like I did and drag your other mod(s) into that.
I have no clue why this issue happens.
Changelog
- There is now a v1.1 in the new download. Includes the HTT_FReishoR_B font that was also in the original UE3 JP Font Mod; replaces the DroidSerif font in the Western client. I'm still unsure where this other font is used but I decided to include it anyways. V1 does not include the extra font.​
- Included a How to Use and Known Issues document.​
- Included preview pictures of the UI.​
-
Regarding the TW region:
There are issues with certain Chinese characters not supported by this font.
So I'm removing that it's fully supported from the title. The mod is still included in the download if you wish to use it. Please see the comments on why it's not fully supported.​
-
Regarding the RU region:
It has some issues with the UI when using this font, so I'm not putting it as officially supported but you can grab one of the test mods I did in the comments if you still wish to use it.​
VirusTotal:
https://www.virustotal.com/gui/file...6ceff00436985e1ecb96c5bfaec96d38828?nocache=1
Last edited: